Markets, investing and what matters most: Quarter in review Q1, 2023
The Private Investment Counsel team reviews market performance during the first quarter of the year, and shows how the Compass portfolios have remained resilient despite economic, geopolitical and societal uncertainty.

While the beginning of March saw its fair share of market turmoil in the banking sector, overall returns for the month were still positive for stocks and bonds, adding to what have now been two strong quarters in a row for each asset class. All ATB Investment Management funds (the funds) saw positive overall performance for the first quarter of 2023. From the lows we saw in October 2022, the funds' fixed-income holdings are up roughly 5%, and equities up 15%.
Maintaining focus on a long-term investment strategy through periods like 2022 can be difficult, but the same periods of lowered optimism often coincide with the initial stages of a market recovery—periods that can be lucrative and difficult to make up for if missed.
Charts of the quarter
After eight interest rate hikes commencing in March 2022— the quickest increase in decades— the Bank of Canada appears to be winning its fight against inflation.
Canadian inflation as measured by the CPI (Consumer Price Index) which peaked in June of last year at 8.1%, has declined to 4.3% as of March 2023. Locally, Alberta's own inflation rate has fallen to 3.3% in its most recent reading. For Alberta, much of this can be attributed to the 16% drop in energy prices compared to only 7% nationally.
The components that make up this broadly reported measure of inflation are:
The time to invest rarely feels perfect
As the chart below demonstrates, investors are likely hard-pressed to think back to a time when investing felt like a sure thing. However, if you can look past the negative headlines in the moment and at the big picture over time, market returns have proven to be resilient over the long run.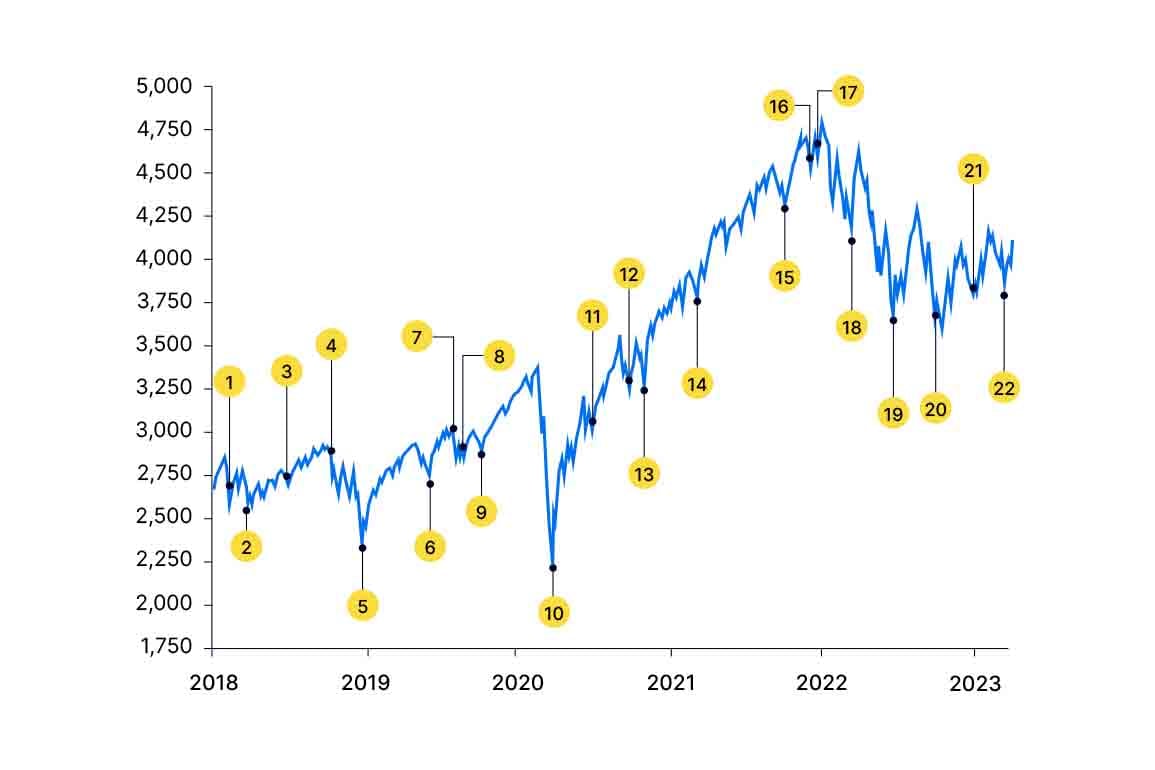 Key:
Short volatility unwind
Trade war escalation
"Quitaly" fears (Quitaly is a term referring to Italy exiting the EU, similar to the term "Brexit")
Fed communication error
US government shutdown
Trade war accelerates
Traffic scheduled for last $300B of imports
2/10 Treasury Yield Curve inversion
Trade war escalates
China COVID-19 shutdown
Potential second wave
Fiscal cliff fears
Pandemic goes global
US election concerns
Rising rate scare
China property market contagion
Omicron variant
Russia Invades Ukraine
Rising rates scare 2.0
Fed's hawkish pivot
Recession fears
SVB panic
Data as of March 31, 2023. Source: Standard & Poor's. Past performance is not a guarantee of future results. Investors cannot invest directly in an index, and unmanaged index returns do not reflect any fees, expenses or sales charges.
Consider the events of the past three years:
• A global pandemic that claims the lives of millions worldwide and effectively shuts down the global economy.
• US GDP collapses by 19% over a three-month period, the worst decline since the Great Depression.
• Both Canadian and US stock markets fall by over a third of their value over five weeks in early 2020.
• Russia invades Ukraine in early 2022.
• Inflation spikes to its highest levels in 30 years.
• The Bank of Canada imposes the fastest interest rate hikes in decades.
Given these events, it is understandable to want to wait for a better time to invest. However, successful investors understand and accept that an ideal time never comes because turmoil and uncertainty are constant.
The chart below shows our Compass portfolio returns were very resilient despite the economic, geopolitical and societal uncertainty.
3-Year Annualized Performance as of March 31, 2023
Source: ATB Investment Management Inc.
An update on our funds
Here are some highlights from ATBIM's recent Portfolio Manager Commentary:
• Broad fixed-income and equity markets were positive, and all Compass portfolios and ATBIS Pools were positive too.
Fixed income
• Declining yields helped bond prices rise over the quarter, a marked difference from what we saw in 2022.
• The Bank of Canada raised its policy interest rate by another quarter point in January bringing it to 4.5% where it has remained for the last two meetings.
• Isolated banking challenges stemming from the Silicon Valley Bank (SVB) event have created investment opportunities for our fixed-income sub-advisor, Canso, one of those being Credit Suisse. You can read more about SVB and the importance of portfolio diversification here.
Equity
• Canadian, US, and international equity markets were all positive for the quarter.
• The standout was the international market as measured by the MSCI EAFE index which was up 8.26% in Canadian dollar terms.
• Company earnings, a key driver of equity market returns, are still proving to be resilient which, coupled with the price declines from last year, mean underlying valuations still look relatively attractive for the asset class.
Compass Portfolios and ATBIS Pools - Series O performance, Q1 2023
Source: ATB Investment Management Inc.
This report has been prepared by ATB Investment Management Inc. ("ATBIM") which manages the Compass Portfolios and ATBIS Pool funds. ATBIM and ATB Securities Inc. ("ATBSI") are wholly owned subsidiaries of ATB Financial and operate under the trade name ATB Wealth.
The performance data provided assumes reinvestment of distributions only and does not take into account sales, redemption, distribution or optional charges or income taxes payable by any security holder that may reduce returns. Unit values of mutual funds will fluctuate and past performance may not be repeated. Mutual Funds are not insured by the Canada Deposit Insurance Corporation, nor guaranteed by ATBIM, ATBSI, ATB Financial, the province of Alberta, any other government or any government agency. Commissions, trailing commissions, management fees, and expenses may all be associated with mutual fund investments. Read the fund offering documents provided before investing. The Compass Portfolios and ATBIS Pools include investments in other mutual funds. Information on these mutual funds, including the prospectus, is available on the internet at www.sedar.com.
Opinions, estimates, and projections contained herein are subject to change without notice and ATBIM does not undertake to provide updated information should a change occur. This information has been compiled or arrived at from sources believed reliable but no representation or warranty, expressed or implied, is made as to their accuracy or completeness. ATB Financial, ATBIM and ATBSI do not accept any liability whatsoever for any losses arising from the use of this report or its contents.
This report is not, and should not be construed as an offer to sell or a solicitation of an offer to buy any investment. This report may not be reproduced in whole or in part; referred to in any manner whatsoever; nor may the information, opinions, and conclusions contained herein be referred to without the prior written consent of ATBIM.