Markets, investing and what matters most: Quarter in review Q3, 2023
The Private Investment Counsel team reviews market performance during the third quarter of the year.

Following a strong first half of the year, global markets trended downwards in the third quarter of 2023. Not surprisingly, speculation about whether central banks will continue to raise key interest rates was core to causing markets to stumble. Following a long series of post-pandemic hikes and a small increase of 0.25% in July, the Bank of Canada hit pause at their September meeting. The surprising strength of economies worldwide has kept most central bankers steadfast in trying to tamp down inflation to target levels.
In our last quarterly commentary, we spoke about the US tech sector (the 'Magnificent Seven': Alphabet, Amazon, Apple, Meta, Nvidia and Tesla) being responsible for a large portion of the gains in the market-weighted S&P 500 since the October 2022 lows. Driven by the excitement around artificial intelligence (AI) during the first six months of the year, this trend reversed slightly in the third quarter, with most of these names giving back some of their gains. Time will tell whether the US Federal Reserve can continue to gradually slow down the rate of inflation and cool economic growth to achieve a soft landing.
After rising almost in lockstep with US markets for the first third of the year, the S&P/TSX Composite in Canada has since lagged behind its American counterpart, the S&P 500, due mainly to the hype about all things AI. Our resource-heavy index finished the first nine months of the year basically flat. International markets also took a step back in the third quarter but remained ahead for the year.
On the back of the July rate increase and a general sense that any rate decrease has been pushed out for the time being, bond markets in Canada struggled as yields rose yet again, pushing bond prices down. Year-to-date, bond returns have been essentially flat.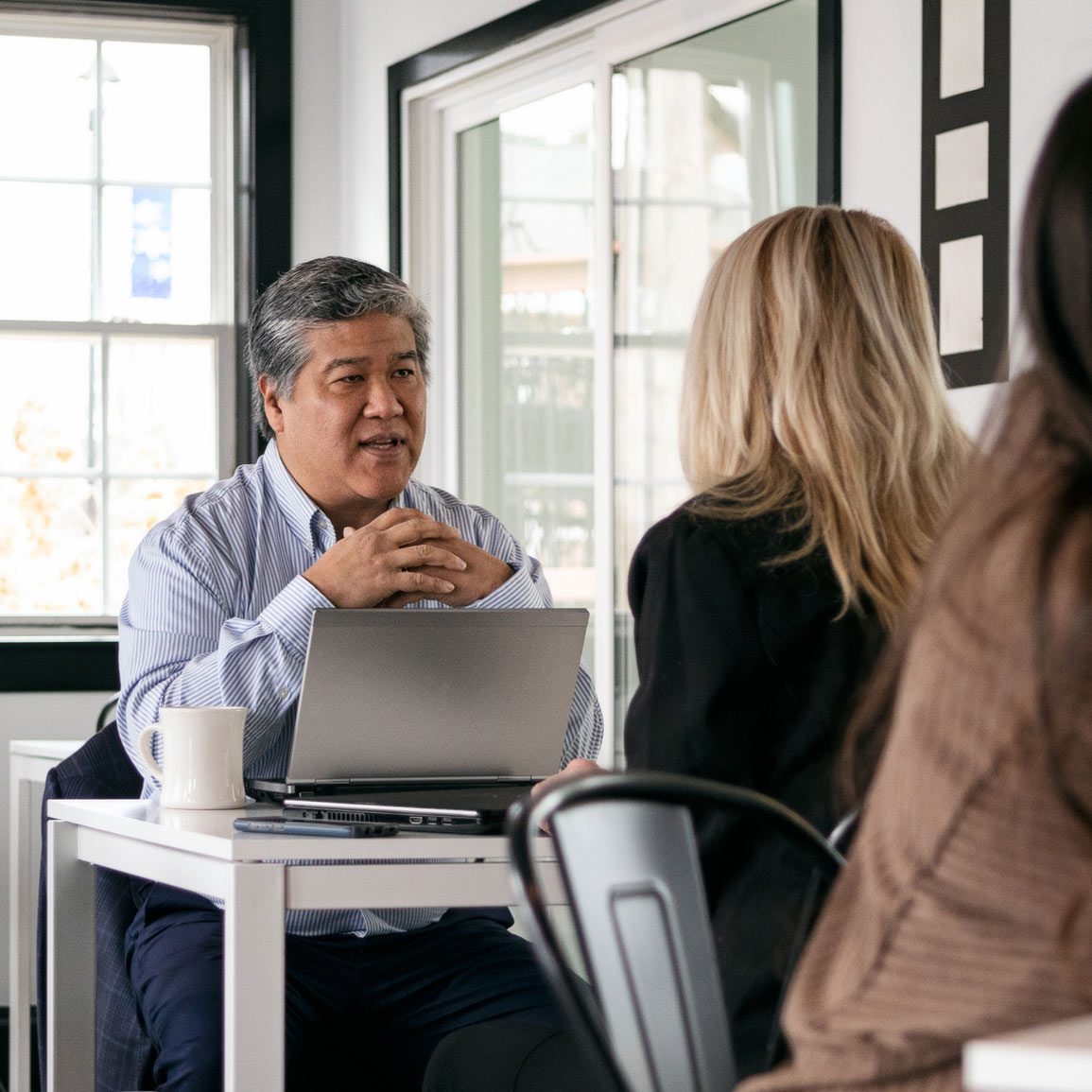 Q&A from recent client meetings:
This quarter, we're trying something different by sharing and answering a few client questions that have arisen in recent meetings.
"What happened to bonds this past quarter?"
The FTSE Canadian Universe Bond Index fell by -3.9% in the third quarter. July's rate hike and a general "higher-for-longer" sentiment about interest rates caused bond yields to rise, pushing down bond prices. The world continues to adjust to the effects of a rapid decrease in interest rates during the pandemic and the quick increase afterwards to fight inflation. The great news for long-term investors is that bonds are now presenting their highest yields in almost two decades - thus raising their expected returns moving forward.
"How has the market performed since its peak in December 2021?"
By the end of December 2021, broad fixed income and equity were nearing their all-time highs - fueled by low rates, healthy consumer spending, record corporate profits and government spending. Central banks' efforts to curb rising inflation rates led to a sharp decline in the same fixed income and equity markets. After bottoming in October 2022, the Canadian stock market has rallied over 7%, while the US stock market has rallied almost 20%. As of September 30, 2023, the S&P/TSX Composite and the S&P 500 are only 2.66% and 0.5% behind the December 2021 temporary peak, respectively. If we use the Compass Balanced Portfolio as a proxy (60% stocks, 40% bonds), it's now about 5.32% behind its December 2021 high.
"GIC rates right now seem attractive by historical standards. How have they performed as long-term investments?"
Our Portfolio Management team (who are responsible for managing the Compass Portfolio and ATBIS Pools) recently penned an excellent article that looks into this question and gives a well-thought-out long-term analysis. Read the article here.
"Most economists were calling for a recession a year ago. That didn't happen. How did everyone get it so wrong?"
A Wall Street Journal survey of over 60 economic forecasters in the fall of 2022 showed that most respondents said that there was a 63% probability of a US recession in the coming 12 months. As we know now, those forecasts were way off, and in fact, the US economy grew at a faster rate than anyone expected. This story underscores a few important lessons for our team and the clients we look after. Economies and markets are notoriously complex and difficult to forecast. They are nearly impossible to time, and do not necessarily move in lock-step. The takeaway remains that long-term investors will continue to be rewarded for having an 'all-weather' game plan for their portfolio and sticking to it.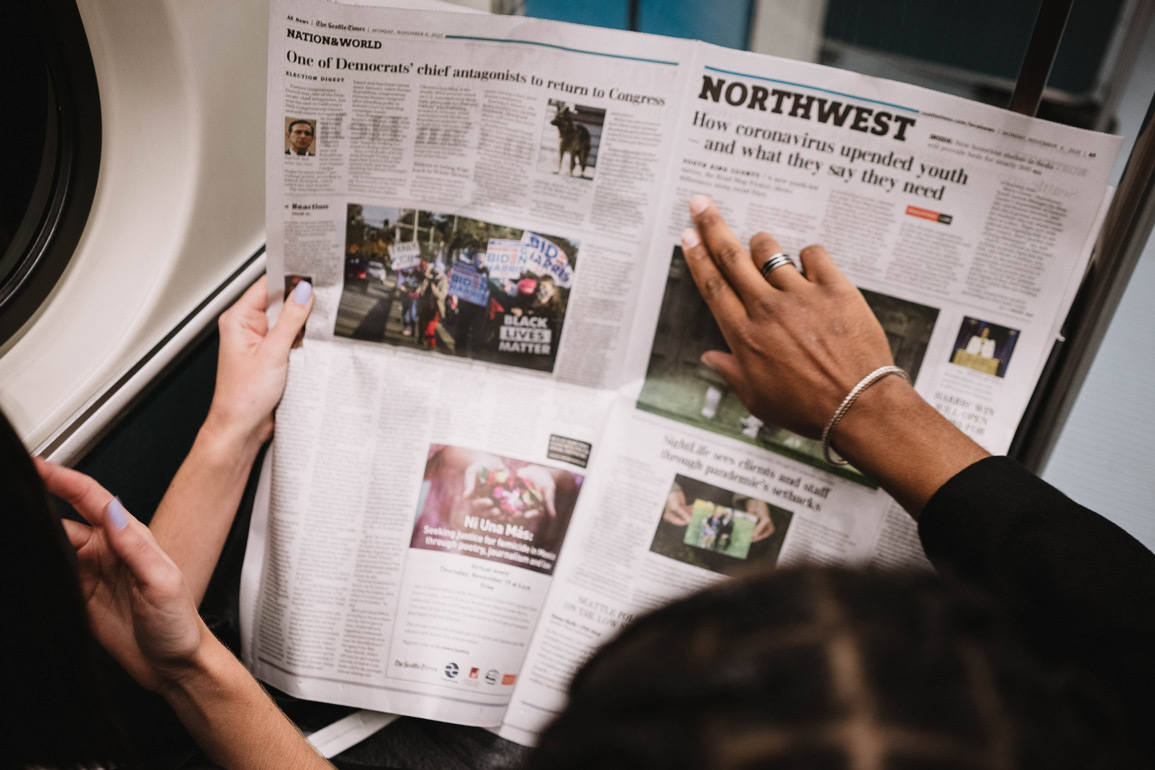 Headlines that mattered this quarter:
US Federal Reserve Chairman Jerome Powell underlined in his September press conference that the Fed expects rates to likely stay "higher for longer" to fight persistently high inflation.
The 10-year US Treasury yield jumped to a 16-year high in the quarter.
Russia and Saudi Arabia cut oil production in the quarter, causing oil prices to top $90 for the first time since November 2022 and helping the energy sector be one of the leaders in Q3.
Calgary hosted the 24th annual World Petroleum Congress at the BMO Centre.
How our Funds' strategies performed:
All our portfolios saw slightly negative performance for the third quarter of 2023. Total returns for the six Compass Portfolios ranged from -0.82% (Conservative) to -2.19% (Maximum Growth). The returns on the four ATBIS Pools ranged from -0.33% to -2.70%.
Read the latest commentary from the Portfolio Management team at ATB Investment Management (ATBIM) for further details.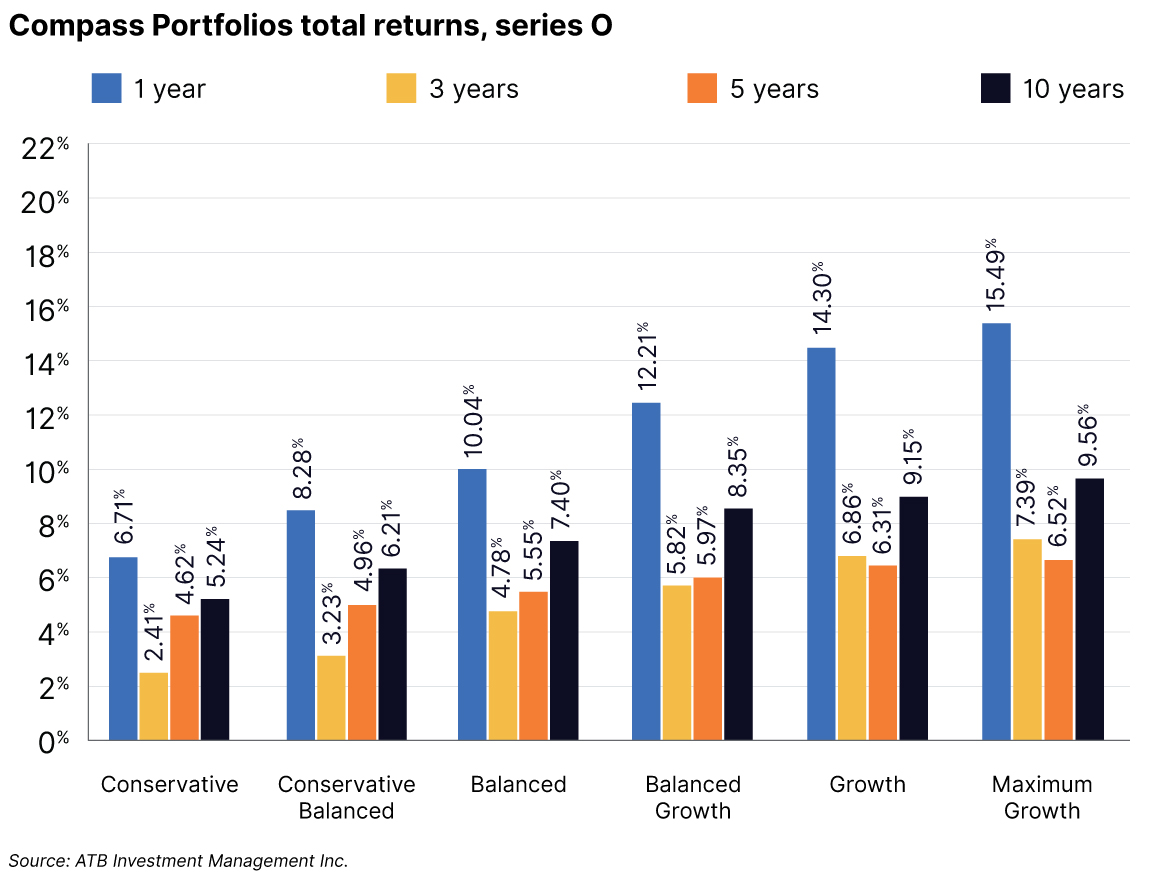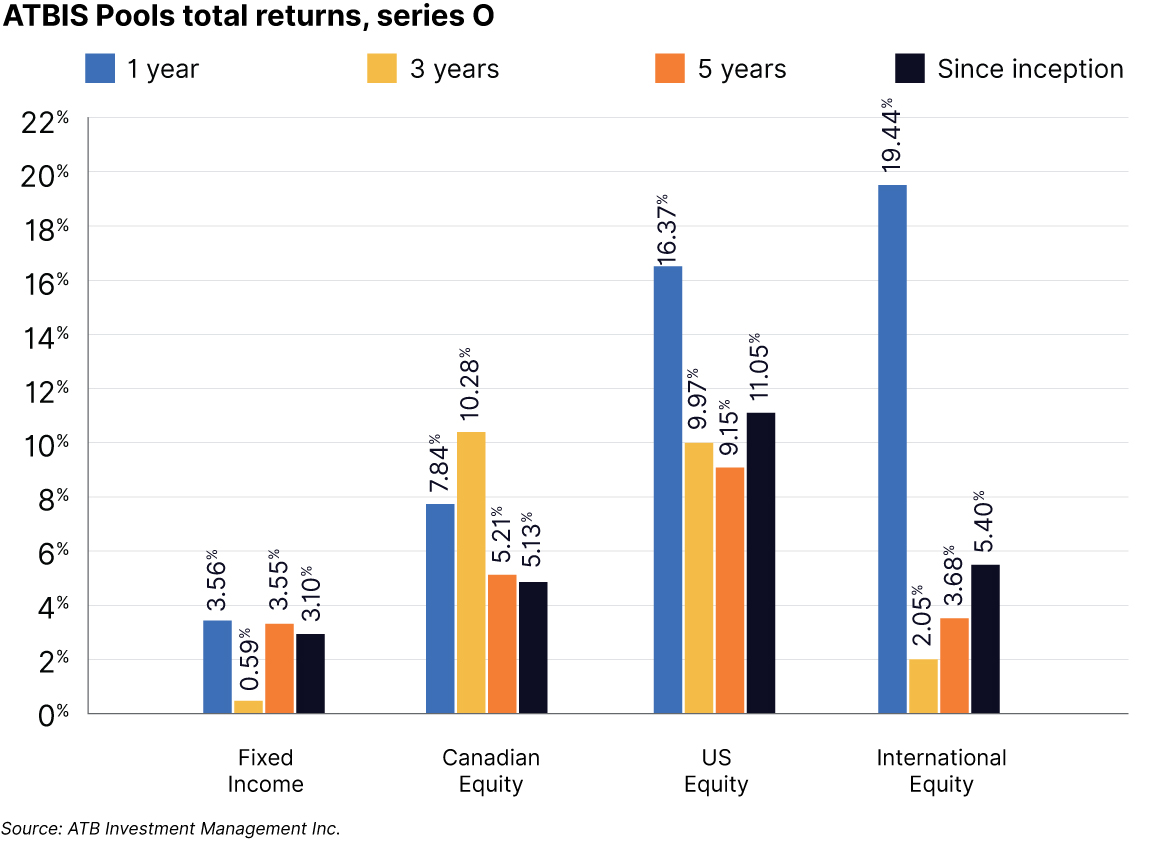 Portfolio positioning:
Looking at the overall picture, ATBIM's Portfolio Management team continued to trim equities and add proceeds to fixed income, bringing it back to a neutral position this quarter. Fixed income is now up to each fund's benchmark weight.
Within our fixed income holdings, we have been increasing the bonds' overall credit quality (rating) since 2020. This continued in the third quarter, with new positions added, including Canada federally-backed bonds and a secured AAA bond issued from the Bank of Nova Scotia. With the recent rise in overall bond yields, the fixed income portion of Compass Portfolios (or the ATBIS Fixed Income Pool on its own) is now priced to yield approximately 6.7% to 6.9%.
With regards to equities, relative valuation differences between US and international equities reached a rare historical disparity in the quarter, leading international stocks to appear to trade at a significant discount. The valuation disconnect led us to sell US equity positions and add to international equity positions throughout July.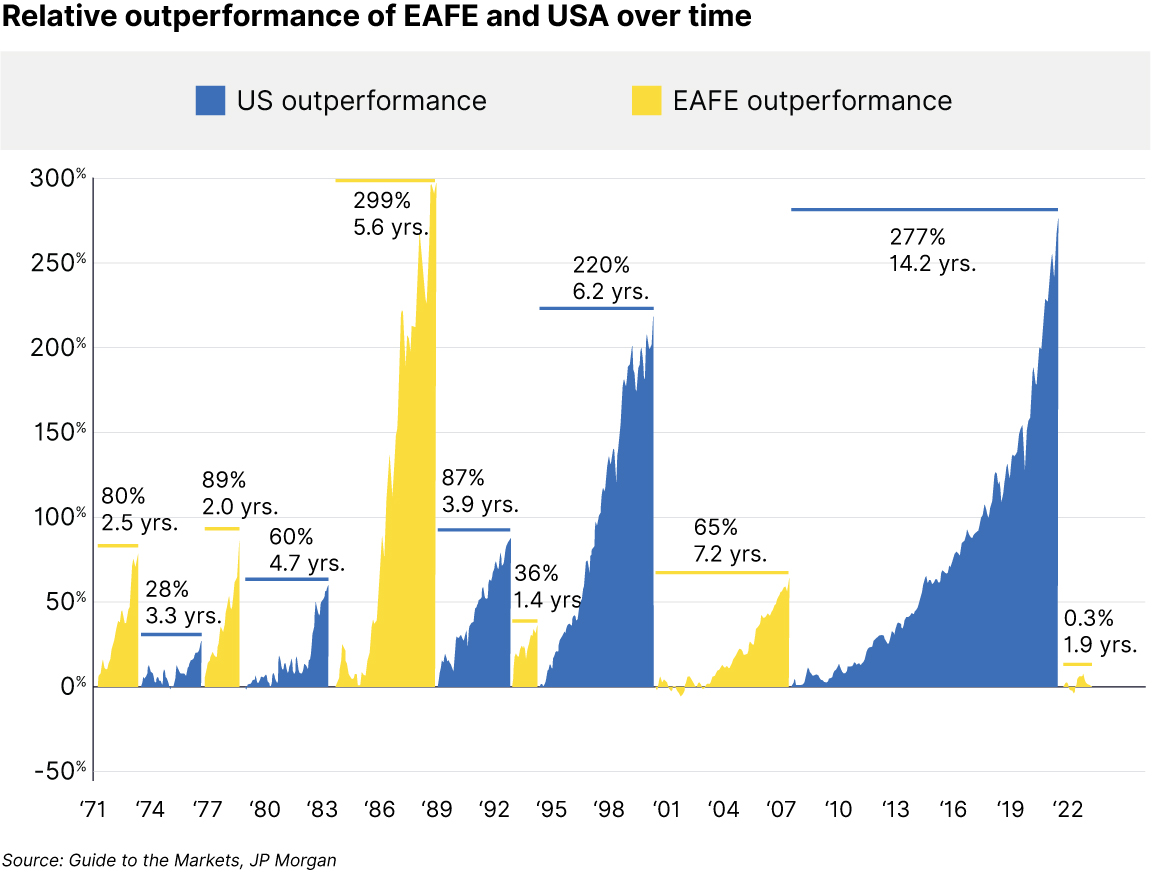 For your interest
The Portfolio Managers at ATBIM also published a review of Q3 2023, which can be found on our website here.
***
We believe strongly that being a successful investor entails combining proper portfolio construction with appropriate investor behaviour. This Morningstar article nicely touches on the latter.
***
Thinking about investing but concerned about the volatility? Wanting to wait to see how things turn out? Wondering if you should invest that lump sum or dollar cost average?
This excellent article by Charles Schwab looks to tackle these questions. Short answer: outside of perfect market timing (impossible we know), you may be better off investing right away.
This report has been prepared by ATB Investment Management Inc. ("ATBIM") which manages the Compass Portfolios and ATBIS Pool funds. ATBIM and ATB Securities Inc. ("ATBSI") are wholly owned subsidiaries of ATB Financial and operate under the trade name ATB Wealth.
The performance data provided assumes reinvestment of distributions only and does not take into account sales, redemption, distribution or optional charges or income taxes payable by any security holder that may reduce returns. Unit values of mutual funds will fluctuate and past performance may not be repeated. Mutual Funds are not insured by the Canada Deposit Insurance Corporation, nor guaranteed by ATBIM, ATBSI, ATB Financial, the province of Alberta, any other government or any government agency. Commissions, trailing commissions, management fees, and expenses may all be associated with mutual fund investments. Read the fund offering documents provided before investing. The Compass Portfolios and ATBIS Pools include investments in other mutual funds. Information on these mutual funds, including the prospectus, is available on the internet at www.sedar.com.
Opinions, estimates, and projections contained herein are subject to change without notice and ATBIM does not undertake to provide updated information should a change occur. This information has been compiled or arrived at from sources believed reliable but no representation or warranty, expressed or implied, is made as to their accuracy or completeness. ATB Financial, ATBIM and ATBSI do not accept any liability whatsoever for any losses arising from the use of this report or its contents.
This report is not, and should not be construed as an offer to sell or a solicitation of an offer to buy any investment. This report may not be reproduced in whole or in part; referred to in any manner whatsoever; nor may the information, opinions, and conclusions contained herein be referred to without the prior written consent of ATBIM.